Carpet / Upholstery Cleaning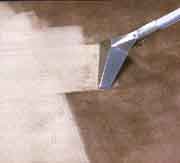 Most home carpets need to be steam cleaned every 3-6 months. Even though regular vacuuming removes much of the surface dirt, remaining particles settle deeper into the fibers where abrasive action can be damaging. By not cleaning your carpets you can actually void your warranty on carpets that have been sold on the last few years.
Carpet Cleaning Process
Your carpets act like a filter for your home and catch all types of airborne particles, dust mites, carpet mites, and pet dander. When you steam clean and deoderize together it kills many types of bacteria living in your carpets.

Our carpet cleaning process involves a high powered 230 degree truck mount with up to 800 cfm's of vacuum which will dry your carpet faster. The hot water extraction method removes the toughest, deepest dirt safely and gently. A formulated solution is injected deep into the carpet fibers, then a powerful suction extracts deep-down dirt, spills and the cleaning solution. No other method can come close to this type of clean.
We also offer a color brightener and deodorizer, scotchguard / teflon protection.
It is recommended that should also clean your furniture one to two times per year, to keep it smelling and looking new. We clean micro fiber, leather, and all steam cleanable furniture.
We clean the following:
Area Rugs
Berber Carpeting
Boats
Car Interiors
Campers
Chairs
Churches
Kitchen Upholstery
Lazy Boys
Leather
Office Dividers
Ottomans
Plush Carpet
Third Wheels
Sectional Sofas
Stain Resistant
Vans
Much more: Churches, Day Cares, Offices, Restaurants!