Looking for Duct Cleaning Easton MA?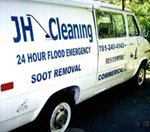 Welcome to the JH Cleaning Easton MA Web site. Our goal is to provide you with useful information about our company that we hope makes it easier for you to do business with us. At this site, you will discover all about our cleaning services Easton MA, as well as our courteous and resourceful staff. JH Cleaning specializes in mold Easton MA and 24 hour water damage service Easton MA. We have certified technicians on staff and use state of the art equipment.
JH Cleaning offers free estimates and is fully insured and bonded. JH Cleaning is a member of the Better Business Bureau.
JH Cleaning offers a complete line of cleaning and restoration services, 24 hr. emergency response 7 days a week for smoke/soot removal, water extraction, sewerage backups, dehumidification, ozone deodorization, content and structure cleaning and much, much more.
We demo houses, carports, sheds, basements garages etc. from one room to whole houses, no job too big or too small.
JH Cleaning can restore the natural beauty of your tile and grout with our professional steam cleaning process. We offer the latest in cleaning technology using a patented pressurized hot water extraction system.
We can get rid of dirt, harmful mold & mildew, and most stains out of all surface. Dirt, grime, and mildew can collect on your home if not cleaned in a timely fashion.
From contractors to management companies to landlords, people are too busy to clean. We perform top to bottom cleaning.