East Bridgewater, MA's Go-To Power Washing Company
---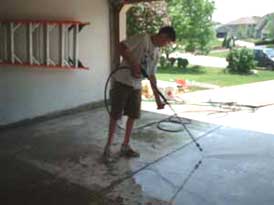 Keep your home clean and full of curb appeal with JH Cleaning's power washing services!
The outside of your home is what passersby, neighbors and guests first make their impressions of your home off of. Don't you want that impression to be a positive one? At JH Cleaning, we work hard to keep your home clean so you don't have to! We can get rid of dirt, harmful mold, mildew and most stains from of all exterior surfaces.
Dirt, grime and mildew can collect on your home if not cleaned in a timely fashion, causing an undesirable façade to your home, costly repairs and even complete replacements to certain areas of your home. By simply power washing your home every now and then, you can add up to 10% curb appeal to your home, according to the National Association of Real Estate Appraisals! Power washing is a win-win situation for homeowners: it is one of the easiest ways to both increase your home value and keep out mold and mildew from coming into your house. Trust JH Cleaning's over 21 years of experience in power washing to give your home the facelift that it needs.
We offer power washing services for the following areas of your home:
Campers
Cement
Driveways
Pavers
Pool Decks
Sheds
Siding
Trex Decks
Walkways
Wood Decks
Much more!
We provide a top to bottom clean that cannot be beat!
At JH Cleaning, we take a comprehensive approach to power washing your home. This means that we initially evaluate your home's surface to determine the amount of water pressure that we'll use, as well as any problem areas that need extra attention. From there, we get to work washing away years of mildew, stains and any debris that may be on your home. Our trained technicians know just the amount of water pressure that should be applied to your home and are careful so as to not damage its exterior or windows. Power washing your home regularly not only gives it a great clean, but it protects your investment for years to come. All of our products are safe to be used on your home as well as for the environment, so all you have to worry about is the attention your clean home will be getting!
---
---
To request professional power washing services for your home, contact JH Cleaning today!